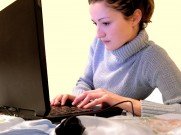 Are you addicted to eBay?
In under a decade, eBay has grown to an internet phenomenon with a worldwide audience of around 37 million people, where you can find whatever you want for the price you're willing to pay.
In under a decade, eBay has grown into an incredible auction website that commands an audience of around 37 million people around the world. Some look for bargain second-hand goods, others look for cheaper versions of something they've spotted in the shops, and others just find themselves addictively browsing five times a day, which has to be a bit healthier than smoking, though perhaps no cheaper.
As long as you know what you are looking for, you can usually find it posted on eBay. From skin care products to outfits for you pooch, car care products to shoes – both footwear and alloys – you can bid for what you want and for the price that you are willing to pay.
Apart from the opportunity for a real bargain, there are growing numbers of aficionados who think eBay is simply more fun than a shopping mall. While the process of bidding can see like a tiresome process at your first try, when you do win a bid at a good price, you might feel like you've won your item, which is exactly what eBay tells you when you've 'won' the item. Feeling victorious over a store purchase just doesn't come that often, unless you happen to find the very last this season's must have that just happens to be your size.
"eBay is entertainment," says Dawn Reno, co-author of The Unofficial Guide to eBay and Online Auctions. "It's different all the time, never the same. Every half-hour there's all new stuff, which is so indicative of the internet as a whole.
"Plus, people love an auction. There's something about bidding that gets the heart pounding."
eBay has certainly become one of the most successful concepts of the internet age. Uniquely, it is like the world's largest second-hand shop and all the bargain-basement shops in the world all rolled into one.
Jim Griffith, head trainer of eBay University – the company's road show of seminars for novice buyers and sellers – says, "Even if you don't use it, you know someone who does, and you've had to listen to their stories about how much they love it."
Since its creation, eBay has become a daily fix for millions of buyers in search of quirky stuff. It's addictive and many homeowners find themselves hunting around on eBay instead of sitting down in front of the television. People with laptops, of course, often do both at the same time.
"Five minutes of eBay will expose you to more items than you'll ever see in a shopping centre," says Marsha Collier, co-author of eBay for Dummies.
On any given day, there are millions items for sale on eBay, with millions of new items added daily. Sales per day run up into the many millions of pounds. For many homeowners, it has become a way to buy what they want and sell what they don't want.
Picture caption: Many people find the buzz of 'winning' a purchase addictive.