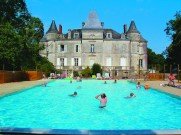 Book early and dream on…
The best part of going on holiday is having the time to research your destination — which is why January is a great time to book your next holiday, and a great way of lifting winter blues.
With winter firmly set in, and the Christmas and New Year festivities over, it is tempting to feel a little gloomy – which is why January is a great time to book your next holiday. Then you can sit back and relax, knowing you have something to look forward to – a great way of lifting winter blues.
When it comes to timing, it is tempting to think last-minute deals will save money – and for those who don't mind where they go, or when, that can be true. But there's one thing to remember: the later you book, the less choice.
If you need flexibility about dates and destinations because of school holidays, or you like a specific type of accommodation and environment, book as early as possible.
By thinking about next year's trip now, you'll have the pick of the crop in terms of destinations, travel and accommodation – whether it is your favourite cottage in a special part of France, or particular dates and timings. Those who know exactly what they want will appreciate this factor.
Richard Price at Brittany Ferries said, "You can guarantee the elements of the holiday you want, and booking early also gives you the opportunity to budget over a longer period of time. For peak travel times such as Easter, Christmas and school holidays, you will rarely be able to take advantage of offers unless you book a long way ahead."
Many tour operators offer early-bird discounts up to nine months in advance, and these can be as attractive as last minute deals – but give you all the choice you require.  Also, because travel companies realise people do not want to fork out large sums of cash so soon after the expense of the Christmas holidays, they will guarantee any early bookings on a low deposit – often as little as £30 per head.  Such sales help them to match supply to demand more easily, and also ensure that they have all the resources they need well in advance.
The discounts available early in the year will apply to all dates in most cases, even during Easter and summer school holidays. From hundreds of pounds off per couple to free nights and even free weeks, travel companies offer all sorts of money-off deals to get us booking early. You'll find discounts on brochure prices with anything up to 50 per cent off the price of your holiday.
Offers are generally very popular, and so while it is tempting to wait and see what else might become available, if you have your heart set on a destination or type of travel, then tour operators all claim it does pay to book early.
Not only that; if you're travelling as a family, booking early means you can spend the rest of the year researching your destination, and looking out for all the activities you want to do, the best family-friendly beaches, restaurants and attractions – the best part of going on holiday!