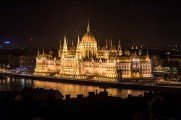 SHORT HAUL- 10 cheapest holiday destinations 2018.  We break down the real cost of living in the best value for money escapes the planet...
So you've found the dream yacht. Now what? If you have decided to make the ultimate holiday-home purchase, your own yacht, then making the payment...
Whether you run a solo small business, or your business is moving from brick-and-mortar to e-commerce, you've likely got a long to-do list —...
Personalizing a kitchen's design is an opportunity to showcase true individuality. The space will feel like a true reflection of self when finished with...
Cruise bootcamp A holiday at sea can take many forms, depending on your preferences – from large, family-sized ships with a multitude of activities, to...
What your clothes say about you Our clothes tell people a lot about the type of person we are, and our outfits often place us...
With people living longer and healthier lives, the demand for anti-ageing products has never been greater. A leading cosmetic surgeon, based in Cape Town,...
HEALTH- 3 ways to keep that better you in autumn (and winter) Just because the season is changing doesn't mean you need to change your...
Even when your skin is looking tired and pale, you can look blooming lovely by adding a touch of colour to your cheeks. Blushers are...
Raisins – The Great Sugar Debate Raisins can be a healthier way of snacking, and have similar nutritional benefits to grapes, their fresh form. There has...
Net benefit for holidaymakers People have moved away from travel agents in their droves. Instead, they are making their holiday bookings from their computer, preferring...
"One cannot trust people whose cuisine is so bad." Or so said former French president Jacques Chirac during an international meeting circa 2005. For those...
Expect The Unexpected On Your Next Cruise Cruising today is quite a different experience to what it was in the early days. From fine dining...