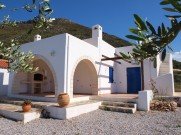 Reasons to visit Greece in the cooler months
Greece in high summer can be extremely hot and crowded. But visit in the cooler, out-of-season months, and the country offers a whole new experience.
The archetypal image of Greece is one of glaring sunshine bouncing off whitewashed buildings capped with blue roofs. But while that's certainly easy to find, there's far more to this sprawling nation than August hotspots.
Needless to say, summer will always be the most popular time to visit, but in many ways that's one of the main reasons to consider a trip off-season. Unless you're keen to experience searing temperatures that can, in a heat wave, reach the low 50s, from September onwards the Greek climate is far more accommodating and less likely to leave you wanting bed at 7pm.
Add to this the fact that many of the main attractions, landmarks and points of interest will be nowhere near as busy, means it's possible to get more out of historic palaces and ancient ruins, and you start to realise that it might well be a good idea to flock to one of the islands during autumn and winter. Although the flights are far less frequent and often a bit more expensive, don't worry too much, as you'll save more than the equivalent of transit in July, thanks to the cheaper hotels, apartments and B&Bs.
There's a common misconception that Greece is all about beaches and the remnants of a once-glorious civilization. This simply isn't the case. With a culture that remains both unique and prevalent in almost all corners, some of the most picturesque villages in the world and fantastic countryside to explore, by coming here at a time of year that's cooler, you'll have a better chance of being able to escape the well-trodden paths and find yourself in a remote idyll.
Hiking routes are everywhere, and there's no way you're heading up that steep hill with the sun beating down. Although rainfall is more likely between October and April, for outdoor types this still won't compare to the god-awful downpours we endure at home during a pleasant but challenging trek across the moors. Put simply then, a trip to Greece out of peak season gives a different take on the country as a whole, accentuating how lush the stereotypically arid landscape can be, and gives ample opportunities to truly get involved with the locals, their customs and pastimes.