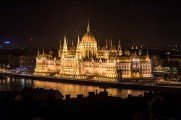 SHORT HAUL- 10 cheapest holiday destinations 2018.  We break down the real cost of living in the best value for money escapes the planet has to offer, hopefully inspiring you to get sorted with a week or two away.
Let's face it, we all love jetting off to foreign climes- whether that's for the climate itself, or to immerse ourselves in the sights and sounds of another culture. We also all love to get a good deal, and that counts for more than simply cheap flights.
But where are the best value for money destinations for 2018?
Thanks to airport transfer website Hoppa you don't need to guess anymore. Taking into account a three kilometre taxi journey, one night in an average hotel (based on per person tariff), one meal, a beer and bottle of wine, here are the 10 cheapest places you could be heading in 2018.
10. Kuala Lumpur, Malaysia 
Total: £81.26
Taxi: £0.75
Hotel: £51.57
Meal: £10.75
Pint of beer: £3.16
Cup of coffee: £2
Bottle of wine: £10.62
9. Sharm el-Sheikh, Egypt 
Total: £78.86
Taxi: £1.37
Hotel: £43.75
Meal: £28.52
Pint of beer: £2.14
Cup of coffee: £0.86
Bottle of wine: £5.12
8. Corfu, Greece 
Total: £78.45
Taxi: £5.38
Hotel: £42.47
Meal: £20.93
Pint of beer: £2.37
Cup of coffee: £2.05
Bottle of wine: £8.49
7. Auckland, New Zealand 
Total: £73
Taxi: £7.17
Hotel: £45.37
Meal: £38.85
Pint of beer: £3.49
Cup of coffee: £2.19
Bottle of wine: £7.79
6. Faro, Portugal 
Total: £67.58
Taxi: £1.05
Hotel: £38.40
Meal: £22.83
Pint of beer: £2.68
Cup of coffee: £0.85
Bottle of wine: £3.54
5. Cape Town, South Africa
Total: £66.02
Taxi: £5.96
Hotel: £49.79
Meal: £17.15
Pint of beer: £1.15
Cup of coffee: £1.12
Bottle of wine: £3.86
4. Hanoi, Vietnam 
Total: £63.16
Taxi: £1.22
Hotel: £41.26
Meal: £10.78
Pint of beer: £0.47
Cup of coffee: £1.10
Glass of wine: £7.08
3. Bangkok, Thailand 
Total: £61.44
Taxi: £1.76
Hotel: £37.12
Meal: £15.42
Pint of beer: £1.95
Cup of coffee: £1.87
Bottle of wine: £11.32
2. Tenerife, Spain (Canary Islands)
Total: £58.68
Taxi: £2.91
Hotel: £39.49
Meal: £24.74
Pint of beer: £1.49
Cup of coffee: £1.01
Bottle of wine: £3.60
1. Budapest, Hungary 
Total: £40.34
Taxi: £4.65
Hotel: £23.23
Meal: £19.57
Pint of beer: £1.11
Cup of coffee: £1.25
Glass of wine: £3.57
Picture: Budapest, Hungary, (C) Kamil Porembinski via Creative Commons