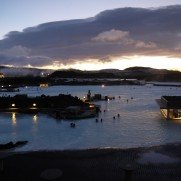 SHORT HAUL TRAVEL- 5 things you need to know about Reykjavik
From the Hallgrimskirkja church to the Blue Lagoon, we walk you through everything you need to know to get the most from a few days in Iceland's unarguably cool (not to mention chilly) capital.
Iceland's capital has always been one of the coolest cities on the planet, and that's not necessarily anything to do with the weather. With its abundance of creativity around every corner, and, of course, proximity to countryside that can only be described as positively Martian, it's no wonder people are flocking here for a city break, or spending a few days in town before heading out to explore the wild tundra beyond.
Consider this a crash course in what you need to know before packing those bags then.
1. The Hallgrímskirkja is as stunning as you hope 
Contrary to what you might assume, the most famous building in the city is actually not the cathedral, although it is used for most major state occasions. Reminiscent of something from Lord of the Rings, with construction completed in 1986 and iPads adorning the walls it's one of the most modern sites of worship you're likely to find anywhere in the world, and the view from the summit of the tower is nothing short of breathtaking.
2. There is so much art here 
Everybody knows that Iceland is famous for music- with the likes of Bjork and Sigur Ros amongst the most recognisable exports. But Reykjavik is also a hotbed for visual arts, and has some of the best galleries you could ask for. There are exhibitions taking place in old bakeries, the sprawling multi-site Reykjavik Art Museum, and the HARPA concert hall is also regularly used for displaying contemporary works.
3. You don't need to eat whale (or fermented fish)
Up against many of its Nordic siblings, Iceland gets a bit of a bad rep when it comes to food. Granted, Copenhagen's world beating eateries are back in Denmark, but nevertheless there are some great places to grab a bite. The newly opened Canopy by Hilton even offers guests traditional specialities for free between 6 and 7PM every evening, meanwhile the excellent Bryggjan Brugghus is a working micro brewery and bistro where you can fill your boots on exquisite cuisine and exceptional beer. Oh, and Omnom chocolate is also based here.
4. You can stop off at the Blue Lagoon en route to the airport 
One of Iceland's most iconic sights and biggest tourist destinations, the Blue Lagoon is all about replenishing your skin with sulphuric waters and recapturing lost youth. Even if you don't really believe that, spending a few hours floating in the warm pools (the colour of which live up to the name), drink in hand, is just the remedy to relax before a flight home. Conveniently, this is all situated roughly halfway between the city and departures lounge.
5. Icelandair don't charge for a optional layover 
Thanks to stiff competition for transatlantic flights, Reykjavik's Keflavik International Airport is now one of the most popular stopovers on routes from Europe to North America. Iceland's national carrier clearly knows this, hence the airline deciding to allow passengers to spend a day or two in the city whilst technically still in transit, at no added cost (other than the accommodation, which you'll need to arrange yourself).