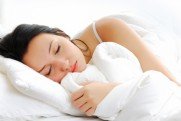 Sleep in a time-starved world
In an increasingly hectic world, more of us are suffering from getting too little sleep. Read on to find out how to increase your chances of having better-quality shut-eye.
We're all in the same position these days. You're either juggling kids and career, career and breakneck-speed social life, or all three. It doesn't leave much room for anything else.
From nighttime meetings to midnight feeds with baby and 1am feasts with friends after a Friday in the bar, it's safe to say that on the whole Britain is staying up later and getting less rest the more we adopt the 24/7 mentality. Even in regional cities such as Manchester and Leeds it's now possible to party right through until the first train to anywhere on a Sunday morning, and as the world adapts to the whole globalisation thing, there's no doubt people will increasingly burn the candle at both ends, professionally.
The problem is, none of this is going to do us much good in either the health or looks department. Indeed, it's often said that the best remedy for a multitude of ailments, from bags under the eyes to stress, is a good night's rest. But have you ever stopped to think about whether or not you're taking the right steps to ensure that your sleep pattern is helping you look and feel ravishing, no matter what the situation?
According to research done on behalf of one of Britain's biggest bed manufacturers, Silentnight, 19% of Britons took a day off in 2012 as a result of sleep-deprivation, with a total cost to the economy of £600million, and women are far more prone to suffering than men. Common issues include problems dropping off, problems staying asleep, poor quality of sleep, too much sleep, nightmares and sleepwalking. Chances are, you are one of the 79% of respondents who has experienced one or two of these in their time.
So what can be done to avoid such nocturnal pitfalls? Well, according to sleep expert Dr. Nerina Ramlakhan, some pretty easy steps should begin erasing those big black circles without the need for cosmetics. First, consider restricting caffeine intake so that you only drink tea, coffee or other pick-me-ups before 2pm. Then make sure you're switching off properly before bed – so no computers or smartphones for at least one hour in the run-up to calling it a night. Instead read, or watch something relaxing on the box.
It's also imperative that if you need to organise things for the next day, you do so prior to your relaxation time. Make a physical checklist of what needs to be done around the house or when you get to the office tomorrow, then descend onto the couch and it should be far less likely you'll spend the night thinking about getting those tasks ticked off. And, finally, if you are having trouble getting off after hitting the hay then under no circumstances should you check the time – this will only compound the situation by making you worry about lost sleep.