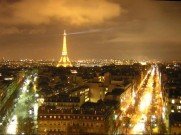 France has so much to offer as a holiday destination. Whether you enjoy skiing, wineries, art and culture, history or stylish coastal resorts, there will be something to please you.
When most people think of visiting France, often the first place they want to see is Paris.
But while this exciting city has much to offer, there are a huge number of things to see and do throughout the country. Apart from being known for its food and wine, France also has a great deal of history and culture, as well as some stunning scenery.
For anyone who wants to enjoy relaxed seaside chic, La Rochelle, a charming fishing town located along France's Atlantic coast, has much to offer.  In addition to the simplicity of the town itself, there are also many museums to enjoy.
Properly known as the Cote D'Azur, the French Riviera is actually a string of small villages and cities on France's Mediterranean coast, that offer all sorts of opportunities for guests.  Spend time in Nice and Antibes, as well as explore the more remote locations of Saint-Agnes and Saint-Paul.  Live as simply or as lavishly as you like, with everything from private cottages to luxury hotels available.
The south-western city of Bordeaux is located where the Garonne and Dordogne rivers meet, and also has much to offer – particularly for anyone who enjoys fine wine. There are many different vintages produced in the area, but apart from the spectacular wineries and great food, there are also beautiful footpaths to explore and plenty of shopping opportunities.
France isn't a destination just for the summer; it is also very well-known for its incredible winter resorts. Located in Haute Savoie in the heart of the French Alps, Courchevel offers some of the most spectacular skiing found anywhere in the world.  However, there is a lot more to do here than play in the snow.  Even during the summer months, when skiing opportunities are limited, there is still plenty to do and lots of beautiful scenery to enjoy.
Nearer to home, Deauville and Trouville are popular with UK visitors, and both are a short drive from where the troops landed in Normandy on D-Day, helping to bring an end to the occupation of France during the Second World War. Deauville is regarded as being one of the most stylish places in the north, with an elegant sea front and famous casino.
For those who associate France with castles, the Loire Valley brings you the Chateaux de la Loire — a collection of many different castles of different ages, dotted along the banks of the Loire River.
Of course, Paris may still be at the top of your 'must-see' list. This enchanting city is brimming with attractions and activities, including famous landmarks and museums providing an insight into centuries of culture and creativity.
The Arc de Triomphe, the Eiffel Tower, Notre Dame cathedral, the Champs Elysees and the Louvre are all household names, and really need to be included in any trip to France, where possible. During the 19th and 20th centuries, France had built the second-largest empire of all time, and you can see this mighty manifestation mirrored in such grand sites. The city has a number of other attractions, such as the spectacular gardens of Versailles, whose grandeur and opulence reflect their regal heritage. Visitors with an interest in culture and the arts can visit Montmartre, a popular haunt for creative types, and see the Sacre Coeur church.
As well as Paris, art-lovers should also visit Giverny in Normandy, the famous location of Claude Monet's garden. If you love grand scenes, don't miss Grenoble which is the gateway to the glorious Alps. Equally visually-impressive is the fairytale-looking tidal island of Mont Saint-Michael on the Brittany/Normandy border, with its abbey's spindly towers that jut into the clouds from the island's heart. Like the rest of France, the magic must be witnessed first-hand.