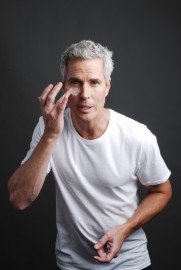 What you should – and shouldn't – steal from your girlfriend's bathroom cabinet
It's now acceptable for men to spend more time preening in front of the mirror. But what is – and isn't – OK to steal from your girlfriend's bathroom cabinet?
While the likes of David Beckham have made it much more acceptable to spend a bit more time preening in front of the mirror, many men are still far from keen on anything more than a spray of deodorant.  But here are the five things which it's totally alright to steal from your girlfriend's toiletry stash…and a couple to leave well alone!
Do! Moisturise…
No woman will ever be impressed by skin as scaly as a lizard's.  There's nothing wrong with slopping a little cream on the face morning and evening to keep your cheeks as smooth as a baby's backside.  There are whole shelves dedicated to men's moisturiser in chemists, boutiques, department stores and supermarkets alike so take your pick from the suitably manly selection on offer and feel the improvement.
Do! Style Your Hair…
The UK's men have long embraced the styling product, from 80s wet look gel (ugh!) to the gooey waxes of the 1990s.  While hairspray and straighteners are best left to the ladies in your life there's no harm in a little styling cream, wax or pomade to bring your barnet in to the modern age.
Do! Condition…
Like a moisturiser for your hair, conditioner is a must for soft, shiny, manageable hair.  Alright, so that makes it sound like Pedigree Chum for your tresses but ask any woman whether she takes two bottles in to the shower and she'll answer in the positive.  What other reason do you need than it makes your hair more strokeable?
Do! Pluck…
While no woman wants to see her man sat in front of a mirror with a pair of Tweezerman for company she equally won't be too enamoured with facial hair inspired by the Gallagher brothers.  There's no harm in sorting out a few stray hairs be they between the brows, on the neck or, especially, sprouting from the nose or ears.
Do! Take Care of Your Hands…
There's nothing worse than a dirty pair of fingernails, not to mention that the hands are the first dead giveaway of age.  So take care to moisturise your palms thoroughly, trim your fingernails (with scissors not your teeth!) and rub a drop of olive oil in to your nails to stop them splitting and breaking.
Don't! Dye…
Ever noticed how George Clooney's popularity has risen in direct correspondence to the amount of grey in his hair?  While it's perfectly acceptable for girls to dye for fashion or to cover up the greys there's something that's just a bit wrong about reaching for the Just For Men.  The problem is that dyed hair is just so, well, obvious.  Take a tip from Gorgeous George and go au-naturel.
Don't! Make Up…
While cosmetics companies and even some magazines would have us believe that before long your average man on the street will be sporting foundation and guy-liner it seems somehow unlikely.  Don't fall for the hype, leave make up for the girls.  And Marilyn Manson of course.