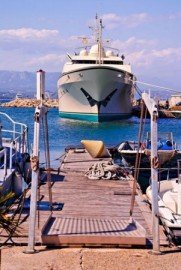 Cruise bootcamp
A holiday at sea can take many forms, depending on your preferences – from large, family-sized ships with a multitude of activities, to smaller ships which can visit more out-of-the-way destinations.
People have been drawn to the seas since the beginning of time, and for good reason. But since the advent of air travel, journeys by water have become increasingly focused on the atmosphere and air, rather than efficiency, that comes with floating on the waves. Rest, relaxation, and the feeling of being cast adrift with only leisure activities, food and sunshine to occupy the time in between fascinating ports are the key factors.
If you've never been on a cruise before, then there are several factors to take into account, and none more important than the culture – or perhaps even cult – that surrounds this mode of transport. Chances are you'll spend plenty of time answering questions along the lines of "Is this your first time", and even more likely is the next comment. You will, indeed, love it, quite simply because the nature of your grand voyage depends on your own personal preferences. No two people's cruises are ever the same, as someone probably once quipped.
Of course there are some universal truths. Different sized boats will be more suited to different agendas. Larger vessels, for example, may offer more swimming pools, cinemas, restaurant options and a greater choice of entertainment venues. Or, to put it into another perspective: these days the notions of planetariums, climbing walls and indoor aquatheatres for acrobatics are all realities on some of the larger vessels.
Needless to say, such distractions aren't for everybody, but those put off by the thought of boarding a 200,000-tonne vessel to watch someone take the high dive alongside several thousand other passengers shouldn't be dissuaded from the idea of cruising altogether. Away from the buffet queues and cramped sunloungers found on some of the more cavernous ships, smaller boats logically provide a far more intimate and, more often than not, laid-back ambience. In many ways this is more in keeping with the timeless notion of waterborne luxury, too, with the glamour of early international travel and exoticism of docking in an 'unknown' (or at least previously unexplored) harbour taking centre stage.
If you're not with the kids and looking to truly kick back, then smaller vessels usually provide more of sanctuary, with circuses-at-sea-sized ships focused more on keeping families busy. There's also a greater need to spread out dinner sittings with more passengers, meaning you're less likely to get to know tablemates and staff, a factor that can often mean the difference between feeling truly at home on the water or not. And the benefits often go well beyond what's on board, too, with a greater choice of ports available on smaller boats, therefore allowing you to potentially explore less-travelled destinations, which will in turn be quieter than their more regularly cruised counterparts, meaning you can make the most of your time ashore.