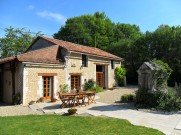 Don't let your dream home become a nightmare
When buying property abroad, beware of being ripped off by unscrupulous dealers. But also beware of paying over the odds on currency transactions, by using a foreign exchange specialist rather than a bank.
If you've turned on the TV in the last few decades then chances are the abundance of programmes looking to promote overseas property investment to Britons won't have passed you by unnoticed. From A Place In The Sun to Wanted Down Under, the listings are full of shows that make either relocating or securing a fantastic holiday home seem not only appealing, but relatively simple.
Needless to say, though, just as there are myriad reasons why people consider buying a property overseas, there are myriad complications that can turn the dream into a nightmare. One of which is unscrupulous professionals working in the overseas industries. Whether that's a shady agent or dishonest builder, there are countless stories where people have lost everything because they placed their trust in someone who let them down.
The simple rule to follow, then, is to check, check and check again on the backgrounds of the people you are dealing with. Seek legal advice here in the UK from an overseas property specialist, and don't sign anything until you are 100% sure of every term, condition and clause. It's also worth noting that laws and regulations can vary wildly from country to country, and therefore getting assistance from someone who has experience in your chosen destination is essential.
Hardly a revelation. With plenty of other TV shows that focus on the horrific ways people have been exploited and taken for a ride by the foreign property markets, what's less widely known is that you can also lose out on thousands even if everything goes to plan overseas. Banks continue to advertise themselves as a great place to deal with international financial transactions. But perhaps unsurprisingly, given their recent track record regarding a lack of transparency, this often isn't the case.
Hence the reason any expert will advise going to a foreign exchange specialist, rather than wherever your current account is. Firms like Currencies Direct offer far more competitive exchange rates and do not charge transfer or receiving fees, so therefore the savings can be significant. A €250,000 home in Spain, for example, could be subject to a standard £25 charge when the bank actions your request, and then an eye-watering 1-3% of the Euro amount when the funds are received. That's not to be sniffed at, with the difference in cost being large enough to pay for renovations, redecorating, furniture, or simply kept to one side for that rainy day. Not that there's much precipitation in Spain, of course.